Mercedes-Benz EQS SUV passengers can play videos while moving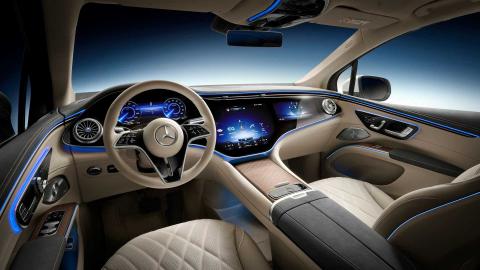 The Mercedes-Benz EQS SUV is set to be unveiled worldwide on April 19, 2022.
Mercedes-Benz has unveiled the interiors of its upcoming EQS SUV. The all-electric SUV comes with a luxurious cabin with leather upholstery and wood and aluminum inlays.
The dashboard of the EQS SUV will feature a 56-inch MBUX hyperscreen, which consists of the digital instrument cluster, touchscreen infotainment central unit and a separate 12.3-inch passenger screen. before. Other features include a Dolby Atmos sound system, an optional three-row seating configuration, and an updated air purification system with a new scent.
The highlight of the dashboard is that the front passenger will be able to watch videos while the car is driving. Mercedes-Benz will allow the front passenger to watch video content including live streaming while the car is in motion, although the passenger will need to wear headphones to avoid distracting the driver. On top of that, the EQS SUV will also use a driver monitoring system to dim the passenger screen, if it detects the driver is looking at it.
The Mercedes-Benz EQS SUV is set to be unveiled globally on April 19, 2022. It is expected to use the same powertrain as the EQS sedan.
Source: Engine1